UNFPA: Delivering a world where every pregnancy is wanted,
every childbirth is safe and every young person's potential fulfilled.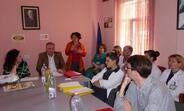 6 May 2016
Health care providers receive training on sexual and reproductive health
UNFPA in Albania strikes to tackle a strategic priority in the health sector: Increasing access to effective health services by reducing financial, geographical and cultural barriers, providing widespread free essential public health services, and articulating a network of services able to ensure continuity of care. In this
21 October 2015
Decided against cancer: campaign
Tirana, Albania - The Resident Coordinator of the United Nations in Albania, Ms. Zineb Toumi-Benjelloun and the Albanian Minister of Health, Mr. Ilir Beqaj, attended the 3rd International Conference on breast and cervical cancer under the motto: "Decided against cancer - side by side with women to prevent it". "Decided against
30 January 2014
Tackling family planning from every angle in Albania
TIRANA, Albania – Anxhela Muhaxhi and her husband Erion married when she was just 12 years old. Early marriage and childbearing are common in her Roma community in Fushë-Krujë, 25 kilometres from the Albanian capital city of Tirana, and many girls there don't even bother attending school as a result. The young couple now have

Early or child marriage is the union, whether official or not, of two persons, at least...

A regional overview supplementing UNFPA's State of World Population 2015
No vacancies currently available