UNFPA: Delivering a world where every pregnancy is wanted,
every childbirth is safe and every young person's potential fulfilled.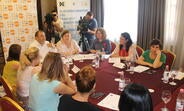 15 June 2017
In June 2017, UNFPA Albania and Infinit Plus launched the establishment of the "Media Platform on Sexual and Reproductive Health". This is initiative aims at creating a network of journalists that collaborate on issues pertaining to sexual and reproductive health, including gender-based violence/harmful practices and healthy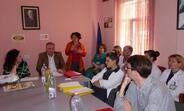 6 May 2016
Health care providers receive training on sexual and reproductive health
UNFPA in Albania strikes to tackle a strategic priority in the health sector: Increasing access to effective health services by reducing financial, geographical and cultural barriers, providing widespread free essential public health services, and articulating a network of services able to ensure continuity of care. In this
21 October 2015
Decided against cancer: campaign
Tirana, Albania - The Resident Coordinator of the United Nations in Albania, Ms. Zineb Toumi-Benjelloun and the Albanian Minister of Health, Mr. Ilir Beqaj, attended the 3rd International Conference on breast and cervical cancer under the motto: "Decided against cancer - side by side with women to prevent it". "Decided against

Early or child marriage is the union, whether official or not, of two persons, at least...

A regional overview supplementing UNFPA's State of World Population 2015
No vacancies currently available
Events
No content available