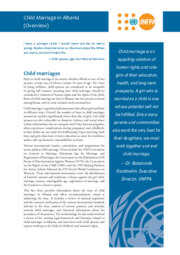 Early or child marriage is the union, whether official or not, of two persons, at least one of whom is under 18 years of age. 
By virtue of being children, child spouses are considered to be incapable of giving full consent, meaning that child marriages should be considered a violation of human rights and the rights of the child.
Rates of child marriage are low in Albania, but the practice is found among Roma, and in some isolated rural communities. 
Full review