Tirana - Do women in Albania fulfill their right to voluntary family planning and prevention of cervical cancer?
This is the question UNFPA raised in the national consultation held today at the premises of the Ministry of Health and Social Protection.
Family planning services were introduced in Albania after 1990, following the fall of the communist regime and the transition to a market-oriented system.  FP is one of the strategies for empowering women. The total fertility rate is 1.8 children per woman (ADHS II 2017-18), which has increased from 1.6 children per woman in 2008-09 (ADHS I). Currently, contraceptives are available in Albania from three sources: free of charge (provided by the government), offered at 431 counseling centers for women, maternity hospitals and health centers at the municipal level; subsidized prices (provided by social marketing programs); and at market prices (provided by the private sector).
The use of modern contraception among currently married women has dropped from 11% in 2008-09 (ADHS I) to 4% in 2017-18 (ADHS II). This finding is particular given the fact that family planning knowledge is almost universal in Albania, with 97% of all women and 96% of all men aged 15-49 years familiar with at least one method (ADHS 2017 -18).
"Albania is proud of achievements in the last couple of decades at policy & service level in family planning & recently in implementing the cervical cancer prevention national programme" said Mrs. Merita Xhafa, Director of Policies at the Albanian Ministry of Health and Social Protection.
Family planning keeps mothers and children healthy and saves the lives of women. Family planning is an influential factor for the social and economic development of society.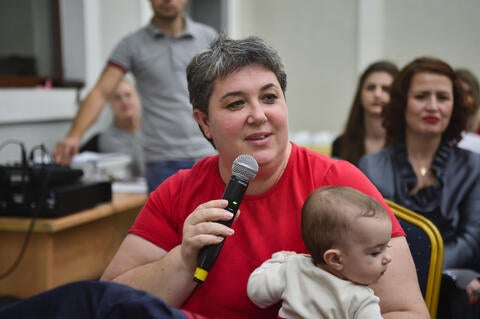 Albanian mother and child, beneficiary of FP services - Photo UNFPA Albania
Cervical cancer is completely preventable. No woman should die of cervical cancer
Cervical cancer in Albania is a public health problem. Along with breast cancer, it is the second most common cancer among women of reproductive age (15-49 years), mainly due to the characteristic increase in risk in middle age. According to national official data, the average cervical cancer mortality rate for the period 2013-2018 in Albania was 2.9 / 100,000 and the incidence rate for the same period was 9.2 / 100,000.
It is estimated that every year in Albania 2,000-3,000 years of healthy and productive lives are lost to cervical cancer related disease. According to one estimate, cervical cancer cost for Albanian society is at least US $ 6m a year due to productivity loss and health-related costs.
At the end of January 2019, the Albanian Government made the important decision to establish the first national program for screening for cervical cancer. The start-up program is aimed at women 40-50 years old. The goal is to provide all women in this age group with Hr-HPV screening tests as part of routine examinations offered at primary health care centers. The screening program will improve the identification of women at risk for cervical cancer, timely detection of pre-cancerous lesions and timely treatment. Under the new program, all primary screening tests and follow-up examinations will be provided free of charge, regardless of patients' health insurance status.
As part of the launch of the new National Screening Program, 538 health professionals from around 400 health centers around the country are already trained. By October 2019, about 13,000 women underwent screening, and about 6% of them were positive for oncogenic HPV and were being followed by the health system. About 20 new pre-cancerous lesions are being discovered and treated.
Dr. Raúl González-Montero, WHO Representative in Albania emhpasized that "Lots has changed in cervical cancer treatment & prevention from 25 years ago. We have today a vaccine to avoid 4 women annual deaths & to prevent 130 annual cases ".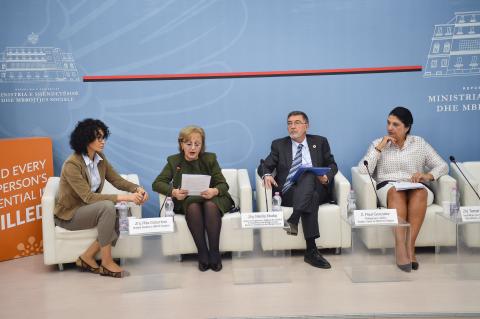 Penalists @What's Changed in FP & Cervical Cancer in Albania - Photo UNFPA Albania
It is necessary to provide support for the program, raising awareness among women, to continuously increase screening coverage, targeting 80% of the target population by 2023.
With all the progress and achievement, lots remains to be done to achieve ICPD and Sustainable Development Goals by 2030. "Albania Government will send a delegation to the Nairobi Conference in November 2019 and we encourage all of you to reconfirm your commitments in support of the achievement of the unfulfilled objectives, alongside with more than 6,000 leaders and activists that will be present in this very important forum.", Rita Columbia, Country Director for UNFPA Albania summarized the need to accelerate and join all efforts.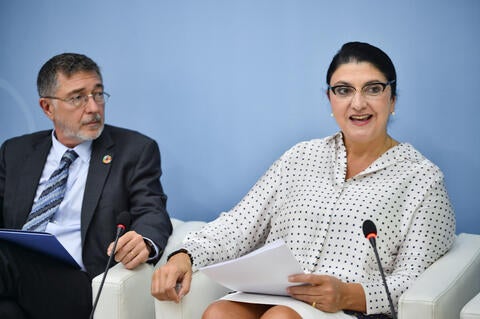 Tamar Khomasuridze, Regional SRH Advisor, UNFPA EECARO
"The ICPD's promises have not been fully fulfilled. We live in a world characterized by inequality, constant discrimination, political turmoil and climate change. More than ever, we must promote the development that serves individuals and the realization of their rights. We must revive the revolution." said Mrs. Tamar Khomasuridze, UNFPA EECARO SRH Advisor, reconfirming UNFPA's support to make this happen.